The organisation face thousands of challenges in its day-to-day operations. One problem is managing client information, business documents, daily task sheets, company contracts, agreements, employee documents, etc.
Many document management systems exist to streamline your business processes, including free and paid versions. Choosing the best document management system eases your business procedure.
Let's dive deeper into document management systems and explore how to choose a suitable document management system for your organisation.
What is a Document Management System?
The Document Management System (DMS) is a computerised system that manages, stores, and tracks electronic documents, including images of paper-based information captured through a document scanner. It enables users to create, edit, archive, and retrieve documents. The system allows users to collaborate with teams with varying levels of access and permissions based on their role within the organisation.
Recorded information or objects treated as a unit for further analysis, reference, and authority constitute a document. Documentation is the ongoing process of collecting, disseminating, managing, and using papers.
Document management tools play a pivotal role in the smooth running of any business. These tools primarily focus on time management, security boosting, ensuring regulatory compliance, and improving team collaboration.
Quick Tips to Help You Choose the Right Document Management System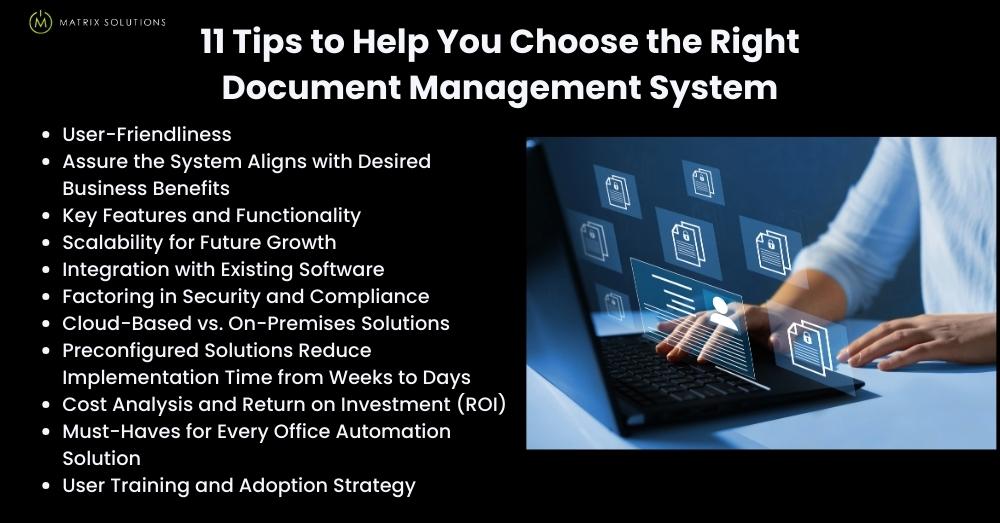 Choosing the right document management can expedite the business process. The right document management system must integrate cloud services, access and permissions, multi-source document input, intelligent organisation, and advanced indexing.
Here, we briefly describe 11 tips for choosing the right document management system:
Companies often focus on the backend and overall software functionality rather than the frontend system. A good document management solution integrates important software functionality with a better user-friendly platform. It is a cross-platform application and must be easily usable for everybody, from accountants and engineers to the business office and employees who work on the factory floor.
After well-planned training, users can effortlessly adopt the system and eventually increase the speed of meeting goals.
Assure the System Aligns with Desired Business Benefits
It would help to consider certain things before deciding on or installing software.
First, understand your business problems and expected benefits. Then, communicate with vendors and team members internally and externally about the current issues and expectations of the new system. Finally, ensure that you are correctly addressing project goals.
Key Features and Functionality
Every Document Management System (DMS) offers a unique set of features. Identify must-have functionalities such as version control, access permissions, and search capabilities. This ensures that the chosen system not only meets your current requirements but also scales with your future needs.
Scalability for Future Growth
As your business expands, so will your document management needs. To accommodate growing data volumes and additional users, opt for a scalable DMS. This future-proofing approach will save you from the hassle of migrating to a new system down the road.
Integration with Existing Software
Seamless integration with your existing software stack enhances overall workflow efficiency. Ensure compatibility with tools like CRM, ERP, and collaboration platforms. This integrated approach streamlines processes and minimizes data silos.
Factoring in Security and Compliance
To compete digitally today, you must emphasise data protection for customer trustworthiness. The document management software enables the system to configure role-based access control. Only authorised users can access, alter, or delete important documents on the system.
Data losses or breaches usually occur when exchanging documents. A system encrypts the documents or uses password security and expiration dates to prevent these.
A DMS is built according to industry-specific requirements and standards, helping you comply with standard protocols. It provides tools to manage document, retention, archiving, and disposal policies.
Cloud-Based vs. On-Premises Solutions
The decision between cloud-based and on-premises DMS hinges on your specific requirements. Cloud solutions offer flexibility and accessibility, while on-premises options provide greater control over data. Evaluate the pros and cons based on your organization's structure and preferences.
Preconfigured Solutions Reduce Implementation Time from Weeks to Days
Organisations have different business processes but share common requirements and decision mechanisms. Preconfigured solutions use these common factors to build a robust framework that requires little or more customisation. These tools enable quick and targeted initiation of office automation, and organisations can implement them within a few days.
Implementing the digitisation of the company's workflow from scratch takes a lot of time. A better practice could be to preconfigure solutions to streamline and speed up the official work from weeks to days.
Cost Analysis and Return on Investment (ROI)
Create a comprehensive cost analysis, including licensing, implementation, and maintenance costs. Evaluate the potential ROI based on increased efficiency and time savings. This financial overview is crucial for making a well-informed decision aligned with your budget.
Must-Haves for Every Office Automation Solution
A lot of work must be performed daily, such as transferring files or documents. While transferring files, the permission and decision-making process should follow a defined hierarchy. The best DMS must integrate automation solutions to increase productivity by streamlining and automating repetitive business processes. This automation eases and simplifies the process of searching and auditing every transaction.
User Training and Adoption Strategy
What is the Use of Document Management System?
Companies generate a large number of documents, either paper-based or electronic. These documents include client information, staff information, and other official information. Managing those documents is the biggest challenge in today's business environment. We mitigate this problem by using document management software.
Let's discover some uses of a document management system.
Version control involves tracking and recording different drafts and versions of a document. It involves navigating a series of changes to the document, culminating in a final version.
Whenever you need to check the previous version or the latest changes in a document, the document management tool lets you view version history in digital format. Therefore, it saves time and increases an organisation's efficiency.
The best document management software always incorporates data security and prevents data leakage. It encrypts the documents while storing them on a server. When exchanging sensitive files, you can enable password security and expiration dates to lower the danger of illegal or unauthorised access.
Searching for digital documents is easier than manually searching for paper-based documents. Management tools enable quick live results as you type something into the search bar without clicking the 'search' button. These are powerful ways to find library documents, saving time and reducing operating costs.
A document management workflow approves travel expenses, annual reports, and countless other business activities. It is intelligent software that acts as a document repository where you can track, manage, and store important documents in real-time. Therefore, it greatly reduces the use of paper documents.
The integration system reduces duplication of effort and prevents the proliferation of data silos. Document management integrates library services, document-interchange technologies, and document manufacturing with business-process applications. It streamlines the information capture and workflow process.
Best Document Management Software
Microsoft OneDrive for Business
As technology evolves, almost everything can be accessed remotely, either jobs or meetings. Microsoft Onedrive for business is a starting point for getting work done remotely. You can share memos, presentations, photos, and videos with your team. It brings a more connected and flexible file experience, more control over admins, and a more personal touch to a team working at home.
Key Features
Power a cohesive file experience
Enhance collaboration in teams
Use visibility and controls for security
Anywhere access
Controls for security
Cost: The cost of Microsoft OneDrive for business depends on your personal preferences:
Plan 1 provides 1 TB storage for each user, costing $5.00 per user/month.
Plan 2 provides unlimited individual cloud storage, costing $10.00 per user/month.
Revver is a highly secure digital platform that automates document-dependent work, empowering users and ensuring compliance with HIPAA, SEC, and FINRA regulations. This software can help you transform quickly by powering document work, enabling teams to work collaboratively on documents, and creating automatically repeatable and scalable workflows. Revver is best known for redundant document filing, sharing, and e-signing tasks.
Furthermore, Revver automates tasks like setting up complex folders, approval routing documents, and much more. It saves time, increases efficiency, reduces operating costs, and eliminates frustrating roadblocks to productivity.
Key Features
Cloud-based and on-premise platform
Operates on Windows, IOS, and Android devices
Allows file type conversion, version control, file recovery, and document archiving
Offers in-person and remote training along with 24/7 support
Cost: The starting cost of Revver is $2000 per year.
Dropbox is a cloud-based storage and collaboration platform designed for the modern workspace. Its goal is to reduce busy work and allow users to focus on what matters most. Dropbox allows users to sync files between devices and back them up, making information accessible from anywhere.
Dropbox can transfer large files, like videos, by sending a link to a recipient for download. You can edit, annotate, and sign PDFs within your cloud storage.
Key Features
Secure collaboration
Admin Console
Dropbox paper
Live support
Storage and access
Security features
Cost: A free trial is also available. The standard plan is $12.50 per month per user. For full access to more sophisticated features and unlimited storage, purchase the advance plan at $20 per month per user.
Google Drive is a cloud storage service developed by Google that integrates docs, spreadsheets, and slides. This tool allows you and your team to create content and collaborate more efficiently. It helps you store your files securely and open or edit them from any device. It is a cross-platform service so you can use this app on a browser or mobile device.
Google Drive's popular document management system includes built-in protections against malware, spam, and ransomware. It proactively scans, notifies and removes unauthorised access and viruses. You can convert file formats and edit and store over 100 additional file types, including PDFs, CAD files, images, and more.
Key Features
Access from any device
File sharing
Search and AI capabilities
Integration with Google
Workspace
Offline access
Support 100+ file types
Cost: Google Drive is free, and users get 15GB of storage shared across Google Drive, Gmail, and Google Photos. Prices to upgrade storage start at $1.99/month for 100GB.
Adobe Acrobat is an application software and web service developed by Adobe Inc. It is an all-in-one software package where you can view, create, manipulate, print, and manage Portable Document Format (PDF) files. This tool provides a platform to convert a document to a PDF or perform more complex tasks like signing PDF forms from anywhere. You can collect signatures, digitally track progress, and automatically archive the signed documents.
Adobe categorises its business services into Creative Cloud for Business, Creative Cloud for Enterprise, and Acrobat for Business.
Key Features
PDF creation and editing
PDF viewing and commenting
PDF conversion to other file types like Word, PowerPoint, and Excel
PDF protection allows password security
PDF Signing
Matrix Solutions is a Managed IT Services provider that offers NetDocuments, the best legal document management software. This innovative software incorporates all the necessary features for cloud storage, data protection, and cross-platform accessibility. It is considered the top legal document management software available today.
NetDocuments offers an array of capabilities, such as robust document security and version control, as well as highly intuitive collaboration tools. These features enable law firms to streamline their operations and focus on delivering exceptional legal services. NetDocuments is the optimal selection for those seeking a comprehensive, user-friendly, and secure platform.
Moreover, our services are not limited to law firms. We provide document management systems for various industries, including real estate, insurance companies, and the financial sector. Connect with us today!
As our pick, NetDocuments is a cutting-edge document management solution that caters to the needs of various industries. Its impressive features make it the best choice for law firms seeking a comprehensive, secure, and user-friendly platform.
FAQs on Document Management System