A good document management system can massively increase a firm's productivity and efficiency. It simplifies and secures the process of storing, sharing and retrieving data at the business's utmost convenience. Document management systems are one of the most influential tool in terms of saving time and cost for businesses.
The digital respiratory acts as a robust automated solution for businesses to smoothly operate their database from entry to management to retrieval. It has top-level cybersecurity and backup protocols in place, providing strong security for the stored data. A strong database management software will also have the ability to monitor and record modifications made by multiple users while keeping a record of the various versions created.
What Is a Document Management System?
Document Management is a software solution that handles all the files and documents of your organisation.
It serves as a digital platform, sometimes also in physical repository, where you can easily store, share and keep track of your data. It is a popular feature in the modern business world where most of the information is used through digital means.
Implementation of a strong Document Management System will allow an organisation to thrive with their productivity and sharpen their efficiency. On top of that, it will also allow a firm security of the data.
Why Are Document Management Systems Important?​
The traditional methods of paperworks are complicated, time-consuming and require additional human resources. And even with all of it, the information isn't backed up and even crucial data can get lost in unfortunate events like natural disasters or fires.
Considering all these factors, the majority of organisations nowadays use computer systems for most of their operations.
Switching to computerised methods may enhance an organisation's efficiency, but not utilising it the right way may bar the organisation instead.
The operations might get even more complicated when manually managing the documents, and the ever rising risk of cyber security is always there.
Therefore, a good document management software offers a comprehensive solution that smoothens, simplifies and secures database management on computer systems. It provides large storage capacity, recovery plans, cybersecurity, and 24/7 customer support.
Top Essential Elements of a Good Document Management System
Acquiring the best document management system would ideally allow the entire organisation to feel a sense of improvement and progress, without hindering their daily operations. These are some crucial factors that stand out as essential elements of a good document management system:
An organisation structure consists of various employees with different designations. It is not necessary that all of the individuals at the firm hold the technical expertise. Thus, the document management software should be easy to use for all individuals regardless of their technological awareness and compatibility.
Mobile Devices Accessibility
In an era where 87% of the world's population owns a smartphone, it is quite logical to say that the organisational structure would consist of employees using mobile devices for operational activities. It is a necessity for a document management software to have mobile devices accessibility.
Security and Encryption Capabilities
Shifting to a digital repository for document storage comes with various cybersecurity risks. When an organisation decides to opt for computerised documentations, it automatically starts storing most of its data into it. Some of the data might be highly sensitive and personal, therefore it is vital that your organisation's data security is of quality.
One of the most important reasons that organisations switch to digital approach is because of the automated process enabled by digital systems. A document management system is of no use at all if it fails to improve your operations process. It is advisable that you check and ensure that the organisational goals are well-aligned as it determines the enhancement of workflows.
Impressive Search Functionality
A seamless retrieval of data is equally important as storage. A good document management will need to have an easy and well-designed user interface that allows every employee to easily fetch any data at any given point of time.
Cloud-based services are becoming increasingly popular, especially because of its storage capabilities. The internet based service allows enormous amounts of storage capacity on digital repositories. Most document management systems enable the use of Cloud.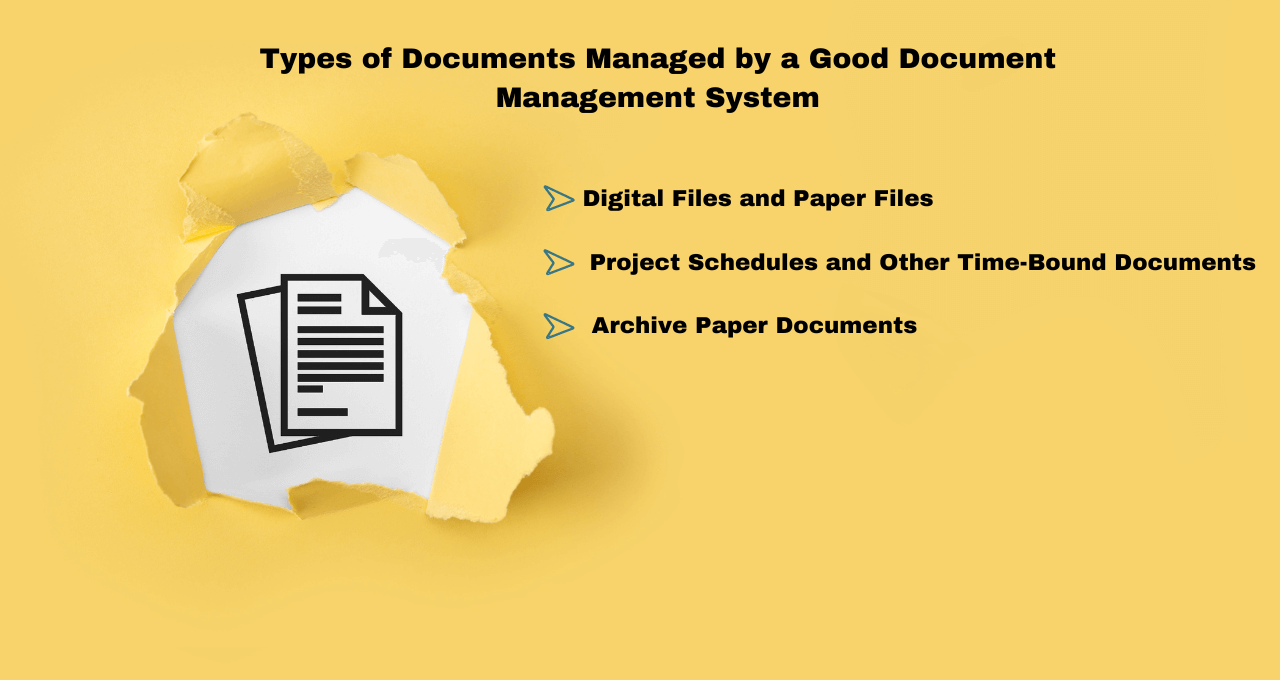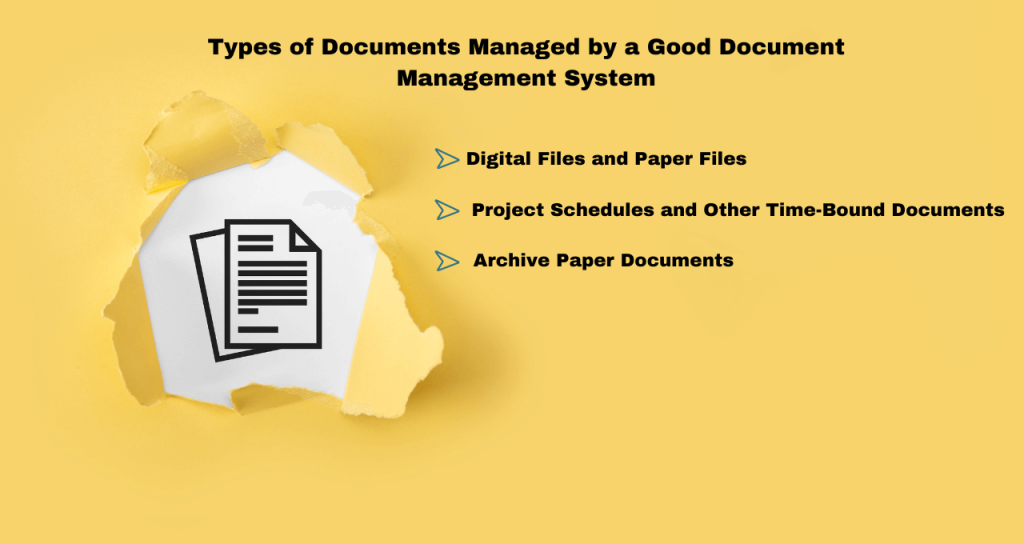 Version Control Capability
Documents are constantly edited and reused, regardless of whether they use the traditional storage methods or a digitised one. Every change is vital to keep track of things in the modern business context.
Cross-Platform Functionality
Being able to work seamlessly on different computers of different companies and versions are crucial signs of a good document management software. Employees inside an organisation might have diverse usage and preferences of computers, so it is important that a document management system is usable in all platforms.
Document Control, Delivery, and Access Control
A document management solution should allow control to oversee the complete lifecycle of documents, covering everything from their creation and review to modification, issuance, distribution, and accessibility. The motive behind it is to ensure that there is one official version of each document in a system, along with a detailed record of its changes over time.
Document Sharing and Collaboration
Document collaboration allows employees to simultaneously work together on electronic documents using special tools and systems, no matter where they are. It saves time, makes things more organised, improves teamwork between remote and in-person teams, and gives customers a good experience. It's an important feature of good document management software that helps organisations work well and reach their goals.
A centralised document management system keeps all documents in a single place, which is really helpful for users. It makes organising and finding documents easier because everything is in one location. Users can access and manage their documents from this central place without having to search in different places. This centralised system improves organisation, accessibility, and overall efficiency when it comes to managing documents.
Productivity and Flexibility
A document management system allows companies to access their documents from anywhere, making it beneficial for flexible and remote work setups. This convenience improves organisational productivity as employees can retrieve and work on documents regardless of location. In the modern context, this enhances flexibility and productivity.
Types of Documents Managed by a Good Document Management System
Databases have been at the forefront of every organisation. But the evolving times have made it mandatory to introduce computerised systems at every organisation's operations. The reason is simple: increased efficiency and security. The documents itself may have variations, let's look into the documents managed by a good document management system:
Digital Files and Paper Files
Most organisations nowadays use computers to operate their daily workflow. Regardless of the fruitfulness provided by electronic document management, it is more of a compulsion to shift towards digital storage. Files, data and information that were previously in forms of papers are now digital.
The transformation from digital files to paper files is massively ongoing with a large number of industries already implementing it. Precisely speaking, a good document management system is all about administering the digital files holistically.
Project Schedules and Other Time-Bound Documents
Project Schedules and Other Time-Bound Documents are crucial for project management as they outline the tasks, due dates, and important milestones necessary for successfully completing a project.
It promotes collaborative editing, version control, and real-time updates between the employees of an organisation. This helps the organisation develop better teamwork and make timely adjustments whenever needed.
Document management systems efficiently manage project schedules and time-bound documents. It improves project coordination and communication and helps organisations meet their deadlines effectively.
A good document management system handles archive paper documents, ensuring they are stored securely and easily accessible for future reference or compliance purposes. 
It achieves this by converting paper documents into electronic files through scanning and OCR technologies.
Examples & Types of Document Management Systems
While the major motives of a document management software remain the same, there are various types of document management systems, all having its own unique needs and features. Here are the different types of electronic document management systems:
Enterprise Content Management Systems
Enterprise Content Management Systems (ECMs) are created to manage content that meets the specific needs of an organisation. They are catered to align with enterprise rules, workflows and processes. 
These systems allow the storage and access of different kinds of unstructured information like Word documents, Excel spreadsheets, PDFs, and scanned images. The storage system is designed in such a way that it allows easy access and storage.
Content Management Systems:
Content Management Systems (CMSs) help users organise and share different types of content online. WordPress is a popular example of a CMS that allows people to create and manage websites, blogs, and other online content. 
With its easy-to-use interface and a wide selection of plugins and themes, WordPress makes it simple for individuals and businesses to create, customise, and publish content on the internet.
Records Management Systems
Records Management Systems are created to store and help find records easily. They are frequently used by regulated industries such as legal, healthcare, and government agencies. These systems make sure that records are stored securely and can be accessed quickly when required. 
By using Records Management Systems, organisations in these industries can efficiently manage and organise their records, making sure they follow industry regulations and keep important information safe and easy to find.
Workflow Systems automate repetitive processes to save time, reduce errors, and accelerate specific workflows. Workflow Systems are designed to automate repetitive tasks, leading to time savings, decreased errors, and faster completion of specific workflows.
These systems streamline and simplify processes by automatically routing tasks, notifying users of pending actions, and providing a centralised platform for collaboration and monitoring.
Document Imaging Systems are designed to convert paper documents into electronic files and data, making it easier to digitise physical documents. These systems allow organisations to store and manage information in a digital format, providing convenient access, easy searching, and preserving documents.
By getting rid of the need for physical storage space and reducing the risk of damage or loss, Document Imaging Systems help improve how documents are managed and retrieved.
Benefits of Using a Good Document Management System
A Good document management system can improve your organisation in numerous ways. Some of the benefits are discussed as below:
Save Money: By using an electronic document management (EDM) system, businesses can reduce costs associated with lost documents, regulatory issues, paper waste, and data entry mistakes.
Work Efficiently: Digitising important documents with a document management system (DMS) powered by AI and OCR makes workflows smoother. It allows for controlling access, keeping detailed records for compliance, tracking user activity, managing documents in a central repository, and automating time-consuming processes.
Collaborate Better: A cloud-based DMS makes sharing and working together on documents easy, surpassing traditional methods. Teams can securely share documents using links, track edits, and view related correspondence.
Find Information Easily: Documents stored in a digital DMS are well-organised and searchable. The system uses metadata to quickly find specific data or text within the documents and related records, saving time and effort for teams.
Save Space: Adopting a modern DMS eliminates the need for physical file cabinets and bulky storage. Storing documents in the cloud enables a paperless workflow, freeing up physical space and allowing funds to be used for other business improvements.
Retrieve Documents Effortlessly: Modern DMS solutions greatly speed up the process of finding and accessing documents. Employees no longer waste time searching for files. Documents are categorised with specific tags, making it simple to locate and retrieve them when needed.
Improve Security: A DMS provides essential security features to protect against data breaches and cyber threats. It includes features like digital archiving, automated backups and deletions, tools for annotating and redacting documents, user permissions based on roles, and multi-step authentication.
Ensure Business Continuity: Implementing a DMS safeguards valuable company data and enables effective disaster recovery. Files are backed up in the cloud, ensuring that business operations can continue even if servers are damaged, or there are disruptions.
How To Choose the Right Document Management System for Your Business?
Choosing the right document management system for your business can significantly impact your overall success. Here are some important factors to consider before choosing the best fit for your business:
Identify your business needs: Start by clearly understanding your specific requirements. Next, determine the types and volume of documents you need to manage and the workflows and processes you want to automate.
Evaluate your current systems: Assess your existing document management systems, processes, and workflows. Identify areas that need improvement and determine the features and functionalities you require in a new DMS.
Consider scalability: Look for a DMS that can scale with your business and adapt to future changes in the market. Ensure it can accommodate your growing needs and handle increased document volumes efficiently.
Examine security features: Pay close attention to the security measures the DMS offers. Check for features such as robust access controls, encryption, and audit trails to protect your sensitive information from unauthorised access.
Think about integration capabilities: Consider how well the DMS can integrate with your other business systems, such as CRM, ERP, or accounting software. Seamless integration allows for smoother workflows and enhances overall productivity.
Evaluate user-friendliness: Opt for a DMS that is user-friendly and easy to navigate. A simple and intuitive interface will enable your employees to adopt and utilise the system quickly.
Review customer support: Assess the level of customer support provided by the DMS vendor. Ensure they offer comprehensive support, including training and technical assistance, to address any issues or questions that may arise during implementation and usage.
Estimate pricing: Evaluate the pricing structure of the DMS and consider how it aligns with your budget. Look for a document management solution that offers good value for money, considering both its features and affordability.
Why Choose Matrix Solutions for Good Document Management Systems Over Other Ones?
When it comes to choosing a reliable and efficient document management system, Matrix Solutions is a standout option. With over 25 years of experience, Matrix Solutions has become a trusted IT consultancy serving the legal and finance industries.
Matrix Solutions excels in offering customised IT solutions for professional firms. We are experts in setting up and supporting advanced document management systems like NetDocuments and Worldox, providing clients with cutting-edge technology that meets their specific needs.
What makes Matrix Solutions unique is our genuine passion for our work. We take pride in implementing strategic technology solutions that help clients achieve their goals.
By choosing Matrix Solutions for your document management needs, you can rely on their expertise, personalised approach, and dedication to building long-term client relationships based on trust and ethical business practices
A good document management system should be user-friendly and accessible on mobile devices. It should have strong security measures to protect sensitive data. Automated workflows make processes more efficient. Impressive search features and cloud-based services provide easy access to data and ample storage. 
Version control and cross-platform compatibility ensure accurate tracking. Document control, delivery, and access control are important for managing documents throughout their lifecycle. Collaboration features improve teamwork and customer experiences. 
A centralised workspace simplifies document organisation. Lastly, remote access enables flexibility and productivity. Considering these elements helps organisations choose the right document management system to support their growth and success.