Implementing a document management system has become increasingly crucial for businesses and individuals. As the volume of documents grows significantly, adopting an efficient and streamlined process for creating, storing, managing, and redeeming these valuable assets becomes essential.
A document management system is a comprehensive solution to tackle all these challenges. A document management system helps you enhance productivity, improve collaboration, reduce storage costs, streamline workflows, and boost security.
However, setting up a document management system requires careful thinking and organising. It's important to understand your business needs, pick a suitable DMS solution, plan how to implement it, train your employees well, make the system easy to use, and smoothly connect it with your current systems and processes.
What is a Document Management System (DMS)?
A Document management system is software that helps organisations capture, store, manage, and easily redeem digital documents. Document management systems examples include Google Drive, Clickup, Docuware, Sharepoint, M-files, etc. Implementing a document management system helps to stress the overload, helps in efficient document handling, increases security, and establishes automatic workflow in an organisation.
Who uses Document Management System?
Document management systems apply practically to any sector and can be in any field. However, it is much more fruitful for those Companies or Organisations that work with large numbers of digital and paper documents. Many small to large businesses, government agencies, educational institutions, healthcare organisations, legal firms, non-profit organisations, and some individuals also use document management systems.
Preparation for Implementing a Document Management System
You need to follow certain preparations for the smooth operation and implementation of the Document management system. Some of them include:
Choosing the right software vendor for your organisation
Choosing the right software vendor helps your business ensure expertise, support, security, scalability, and a long-term partnership. It is one of the vital decisions as selecting the relevant software enables you to solve your problem with improved efficiency, productivity, and data security within your organisation.
Determining the number of licences required
Depending on the organisation's functionality, they must determine their required licences. Most document management software applications have premium versions, which they use on a per-month or year basis. So, organisations should decide whether to purchase for one user or many users depending on the task. Doing this can help them plan their business, estimate their budget, ensure compliance, optimise system performance, support future growth, and enhance user productivity.
Preparing paper documents for scanning and filing
Before implementing a document management system, ensure all the required paper documents are ready to convert into electronic format. Also, store it in the document management system so it won't be a problem while scanning and filing the documents. Being ready and prepared with all the required documents helps the DMS's smooth operation.
Steps for Implementing a Document Management System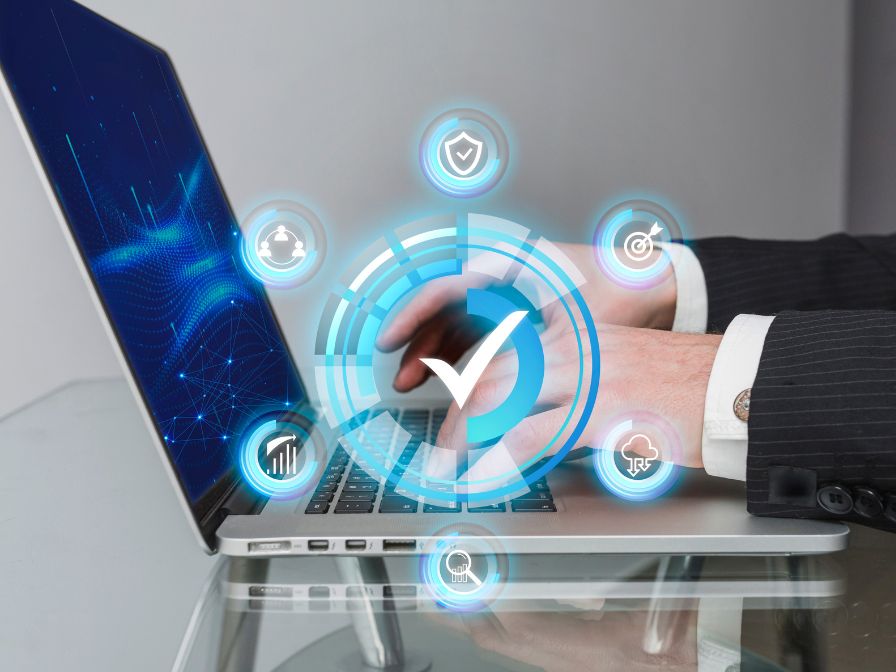 Successful document management system implementation helps you streamline your document handling process, enhance collaboration and improve overall efficiency. So, to get the most out of your document management system, follow these 5 steps.
Step 1: Understand the business need and processes
You must understand exactly how your business processes function and how files and documents flow through those processes. Doing this helps you point out areas where the system can improve efficiency. It allows you to align with business goals, optimise workflows, meet security requirements, and improve productivity.
Step 2: Define user types and their authorities
It's important to prioritise High-need users with high management before low-authorised users. Doing this will help you create secured environments for users with high power, ensure excess control, document security, efficient workflows, successful change management, etc.
Step 3: Select relevant features only
Document Management System has a variety of features. Select the features that are best suited for your organisation. Some of them include:
Search 

Scalability

Workflow

Document Control systems

Access Controls

Plugins

Integrations
Step 4: Automate (and simplify) the process
Automate and simplify your business processes, especially for moving repetitive files and documents. Your electronic document management system should be strong enough to see these processes. You should be able to see and understand all the processes within the circles.
Step 5: Integrate with all software and hardware
Your electronic document management system should integrate with all hardware and software within your organisation and other businesses. Following this step helps you with smooth workflow, make real-time information available, improve collaboration, expand productivity, and save time and money.
Best Practices for Implementing a Document Management System
Adopting best practices in the implementation process helps businesses ensure a smooth transition and maximise the benefits of a well-structured document management system. Here are some procedures to follow:
Clarifying the importance of making the transition
Communication plays an important role in this case. Before you adopt the electronic document management system, everybody involved in this technology must be aware of the change and its benefits as soon as possible. So, setting up a meeting or discussion session is crucial to inform everyone about the transition.
Although DMS is easy to use, it's important to set up a DMS implementation project plan to teach your staff how it operates and its functionalities and ensure the best possible ways to get the most out of it. Conduct this session before implementing the systems to prevent potential errors while launching.
Scanning paper documents and making them digital
Before the implementation, remove the physical papers and convert them into digital as soon as possible. Doing this will help you ensure you have all the information and documents necessary for a successful digital implementation.
Customising your document management system
A better document management system should be highly configurable and customisable. As soon as you implement the software, analyse how you can use the system to identify the errors and issues and put them in place to tackle them. Once you fully customise your new DMS, it will be ready to align with your business goals and needs.
Implementing a Document Management System in the Cloud
Implementing a document management system in the cloud means storing, managing, and organising files and documents securely on the Web or Internet instead of storing them on local computers or servers. You can access your files and documents anytime and anywhere with an internet connection.
Advantages of a cloud-based document management system
The Cloud-based document management system has enormous benefits: Firstly, it eliminates the need for Physical storage space, reducing data loss. Secondly, it enhances Easy Collaboration and document sharing among team members. Thirdly, It provides advanced search capabilities, as we can find documents using relevant keywords or filters.
Planning for a cloud-based document management system
Proper planning techniques for a cloud-based document management system include:
Determine the Organisation's Objectives and requirements

Access Current Infrastructure

Data Migration

Security and Compliance

User Training and Change Management

Integrate with existing systems
Implementing a cloud-based document management system
The implementation process may differ depending on your organisation's requirements and the chosen DMS software. Consult with IT professionals or work with a vendor specialising in document management systems to ensure a successful implementation.  
Control, improvement, and problem resolution for a cloud-based document management system
Once you implement a cloud-based document management system, it's crucial to establish Control mechanisms, continuously improve the system, and thoroughly address different kinds of problems that may arise. Control, improvement, and problem resolution are long-term processes, so consider these steps for the long-term success of your cloud-based DMS.
Contact us for managed cloud services
Common Challenges in Implementing a Document Management System
You might face different types of challenges while implementing a Document management system. Following are some possible challenges you might encounter:
Overcoming resistance to change
Introducing the new document management system requires a certain change in the workflows and habits. During the initial phases, employees might need help to adapt to a new system which may slow the implementation process. So, communicate with your employees about the benefits of DMS, address concerns and provide enough training and support to run the system smoothly.
The success of a new DMS depends upon its user adoption. If the user finds the system difficult to use, it might result in failure or difficulty utilising its Capabilities. So, provide comprehensive training and user-friendly interfaces to overcome this challenge.
Maintaining data security and privacy
Maintaining and protecting valuable and sensitive data is one of the significant challenges in implementing DMS. An excessive number of users and their data on the internet increases exposure to different cyber attacks, data breaches, and unauthorised access. 
In conclusion, the Document Management System(DMS) is one of the most valuable tools for businesses to manage their digital documents, improve workflow, and enhance efficiency and productivity. So, it's important to understand your business type, choose the DMS software wisely, provide adequate employee training, and make a system user-friendly for the smooth and successful operation of a DMS in your business or Organisations.
How to Implement a Document Management System FAQs