What is a vCIO?
A vCIO, or virtual CIO, is a service that Managed Service Providers (MSPs) offer customers. It means a dedicated MSP employee or a team manages the IT infrastructure of the client's company and plans its growth and development.
A virtual CIO's primary roles include formulating, developing and implementing strategic IT goals for a company. They formulate a cost-effective way for a company to reach these goals and strategies.
Previously, an in-house IT officer or an IT team carried out the vCIO's responsibilities. Today, vCIOs present budget-friendly, flexible and remote IT solutions for businesses looking for support and expertise without having to incur the expenses of employing full-time IT departments.
Virtual CIO Roles & Responsibilities
As more organisations require better IT strategy and infrastructure, the role of a virtual CIO (vCIO) becomes more significant. They stand as key decision-makers who take charge. A vCIO's job includes:
Analysing Data & Reporting for the Client
One of the core responsibilities of a vCIO is to analyse the client's data and provide comprehensive reports. A vCIO evaluates the IT infrastructure, identifies vulnerabilities and recommends improvements. By understanding the client's technology landscape, the vCIO can propose effective solutions that align with the client's business goals.
Determines IT Objectives and Implements the Technology Roadmap
Another major role is formulating the technology roadmap for the upcoming periods. Virtual CIOs work primarily in aligning technology strategies with business objectives. They create a technology roadmap outlining the steps to achieve long-term goals. By leveraging their expertise, vCIOs ensure the technology implemented is efficient, secure, and cost-effective.
Differentiating vCIO from Traditional CIOs and IT Consultants
The role of a vCIO sets it apart from traditional CIOs and IT consultants in several significant ways. The time arrangement of virtual CIOs provides cost savings and allows businesses to access specialised expertise without the burden of a full-time employee.
Unlike traditional CIOs and IT consultants, vCIOs' external perspective enables them to offer unbiased insights and objective recommendations in any business, making them more advantageous.
More notable points are given below:
Employment Status and Engagement:
Traditional CIOs are full-time employees responsible for managing an organisation's entire IT department, while vCIOs are external consultants engaged on a contractual basis to address specific IT needs.
Scope of Responsibilities:
Traditional CIOs have operational oversight and manage the day-to-day IT operations, whereas vCIOs focus on providing strategic guidance and aligning IT strategies with overall business objectives.
Expertise and Experience:
Traditional CIOs typically specialise in one company and gain in-depth knowledge of its systems, while vCIOs bring diverse industry experience, having worked with various clients across different sectors. It helps them providing a broader perspective on technology solutions.
Cost and Budget Considerations:
Hiring a full-time CIO can be expensive for small to medium enterprises making vCIOs a cost-effective alternative. Businesses can access the expertise of a vCIO at a fraction of the cost. It allows them to allocate resources more efficiently and scale IT services according to their needs.
Why are vCIOs Becoming More Prominent?
As businesses realise the importance of technology in their operations, the demand for vCIOs is increasing. There are several advantages to outsourcing CIO services in any organisation.
Advantages of Outsourcing CIO Services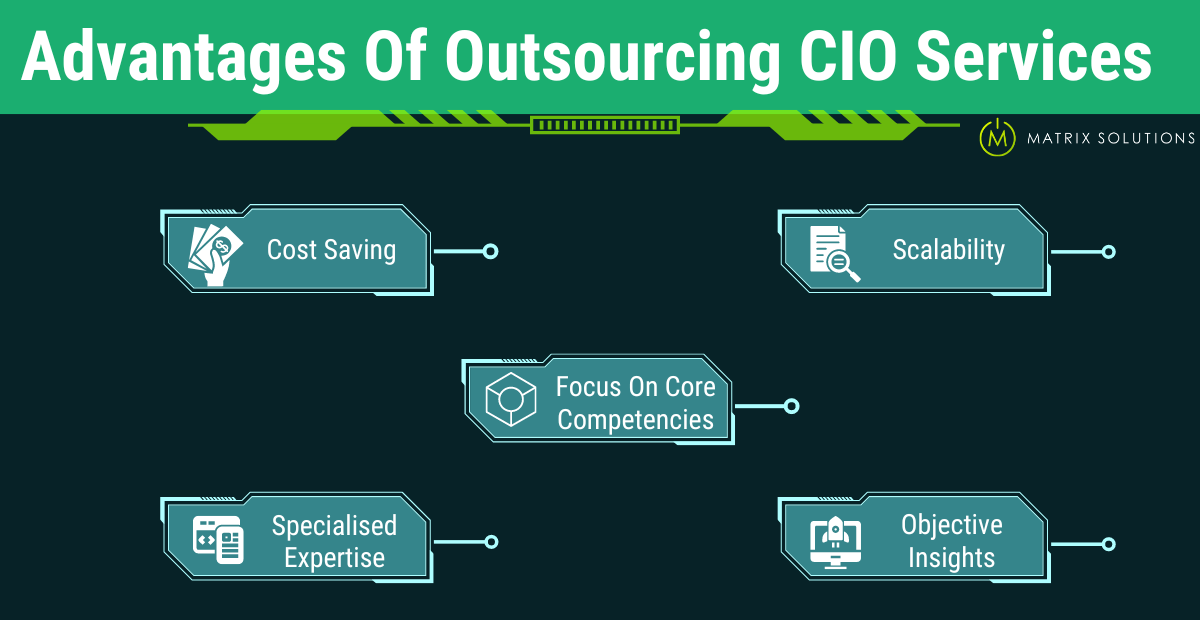 Cost Savings: Engaging a vCIO allows businesses to access high-level IT expertise at a fraction of the cost of hiring a full-time CIO.
Scalability: As businesses grow, their technology needs evolve. Virtual CIOs can quickly scale their services to meet changing requirements, ensuring flexibility and adaptability.
Specialised Expertise: vCIOs bring a diverse skill set, incorporating industry best practices and brand-new technologies to drive innovation.
Objective Insights: vCIOs can provide unbiased and objective insights as external consultants. They help businesses make well-informed decisions.
Focus on Core Competencies: Outsourcing IT responsibilities to a vCIO allows internal teams to focus on core business functions.
Challenges and Limitations of vCIOs
While vCIOs offer numerous benefits, there are some challenges to consider:
Limited Physical Presence: As external consultants, vCIOs may only sometimes be physically present on-site, which could concern some businesses.
Data Security Concerns: Sharing sensitive business data with an external party requires robust confidentiality measures.
Integration with Internal Team: Effective collaboration between the vCIO and the internal IT team is essential for success.
How to Implement vCIO Services?
Integrating VCIO services into your business is a straightforward process. You can leverage their expertise to drive your business forward. Following the step-by-step guide, you can logically implement VCIO services in your organisation.
Steps to Partner With a vCIO Provider
Identify Your Business Needs: Determine your IT issues, areas for improvement, and long-term technology objectives.
Research vCIO Providers: Look for reputable vCIO service providers with experience in your industry and positive client testimonials.
Initial Consultation: Meet potential vCIO providers to discuss your business requirements and evaluate their approach to technology solutions.
Customised Service Proposal: Select a vCIO that offers a tailored service proposal aligned with your business goals and budget.
Should You Appoint a vCIO for your Business?
Deciding whether to appoint a vCIO depends on various factors, including your budget, IT needs, and growth goals.
There are a couple of reasons companies hire MSPs to be their vCIOs. Some businesses contract MSPs to act as their CIOs. Other companies use MSPs to support their CIOs and internal IT teams.
Regarding size, larger clients with in-house support typically consider using vCIOs. Besides other responsibilities, these clients often rely on vCIOs for strategic technology planning.
How Much Does A Virtual CIO Cost?
Virtual CIO services are more affordable and reasonably priced than hiring a full-time IT team (CIOs). Implementing a virtual CIO usually comes at a fraction of that cost. It can be an especially viable option for small to medium-sized businesses. That is because they may need more money to hire IT staff but still want their IT network to be streamlined and work efficiently at all times.
Although a vCIO does not work full-time, they bring an executive level of experience to help guide your company and its IT environment with skill, accuracy and precision. This arrangement is how businesses reap the attractive cost benefits of using a vCIO.
Calculating the ROI of Virtual CIO Services
Evaluating the return on investment (ROI) for Virtual CIO services is crucial to understanding the impact of these specialised IT consulting solutions on your business.
To calculate the ROI, consider improved productivity, enhanced cybersecurity measures, streamlined technology processes, and cost savings achieved through efficient technology implementation.
A vCIO can bring substantial ROI by improving efficiency, reducing downtime, and minimising security risks. By considering the long-term benefits, businesses can justify the investment in vCIO services.
Conclusion
A Virtual CIO can be a valuable asset for businesses in the Australian market, it provides strategic technology guidance, cost-effective solutions, and objective insights. By understanding the roles, advantages, and implementation process of vCIO services, you can decide whether to embrace this modern IT consulting approach.
Lastly, Opting for a virtual Chief Information Officer(vCIO) is a strategic move that can greatly enhance the operational frequency of a company. With the increasing demand of robust IT strategy and infrastructure, the vCIO's role becomes crucial in guiding the organisation toward optimal technological solutions and successful business outcomes.
Book a free consultation to find more about our Virtual CIO services Now.