What are Managed Services in IT industry? They are third-party service providers where industry experts offload IT-related tasks.
Managed IT Services involve outsourcing various processes and functions to a third-party service provider to improve operations and reduce expenses. It offers a wide range of remote services, from on-demand response to 24/7 coverage of IT responsibilities. The managed services model leverages the workload reduction from the in-house team or fills the existing gap in IT roles and skills.
Furthermore, providers significantly reduce costs, improve business operations, and increase the productivity and efficiency of the organisation.
7 Types of Managed Services in the IT Industry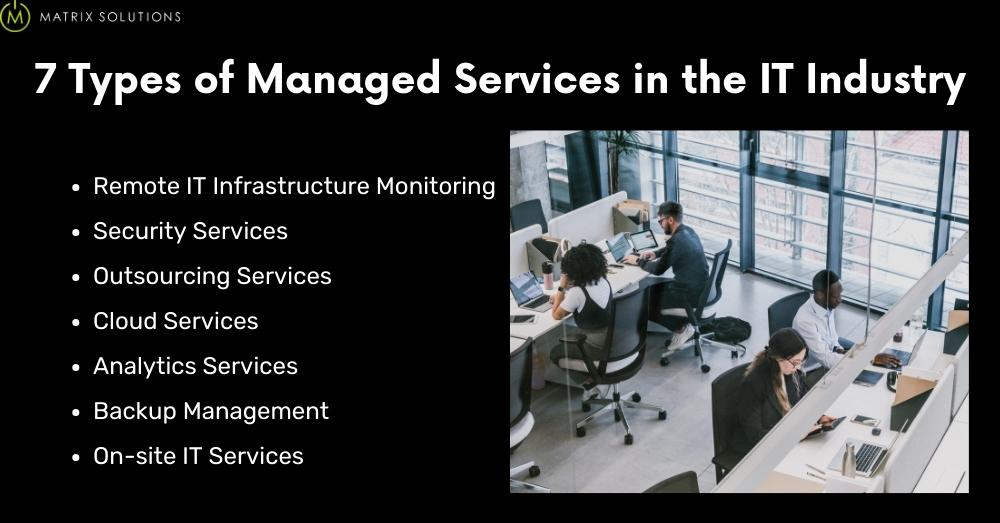 There are numerous IT services ranging from general to specific, depending on your needs. Some managed services examples are security, hosting, cloud computing, system monitoring, and many more. One of the most popular IT services is hosting.
Some of the popular types of managed services in the IT industry include:
Remote IT Infrastructure Monitoring
Remote IT infrastructure monitoring is a common type of managed IT service. The service provider remotely manages the administration of servers, workstations, and mobile devices. The company tends to these services because of intense competition and profit margins, leading to new and specialised types of managed IT services.
The service provider's core motto is to protect an organisation from cyber attacks. Managed services must integrate confidentiality, integrity, and availability (CIA) into their service offerings. A service vendor provides a range of services, including services like software patching, maintenance, and other security-related services.
Outsourcing services are a business model in which companies outsource specific IT functions to a third-party vendors who handle their day-to-day business activities. These services include application support, cybersecurity, IT infrastructure management, and many more.
As per current trends, managed public cloud services collaborate with cloud providers like Amazon Web Services (AWS), Google, and Microsoft Azure. They encompass the implementation, maintenance, and management of cloud services.
One of the key features of cloud services is you can pay per use.
Companies measure growth with the help of KPIS and network performance. Matrix Solutions assists in gathering information, assessing, and protecting user and customer data. We provide unbiased snapshots of organisational workflows and offer necessary suggestions for improvement.
The topmost priority of managed services is ensuring the safety and integrity of data in an organisation. Service providers assure adequate security and backups in a safe place so that you can easily recover from data loss during a disaster.
The managed service company assigns experts to a designated area to carry out various IT activities. On-site IT services include installing and maintaining equipment, cable or wireless installations, site assessments, etc. Providers are responsible for scheduling and delivering services, maintaining issue logs and service requests, and conducting post-task communications.
What are the Benefits of Using Managed IT Services?
Managed IT services offer numerous benefits to businesses. These services provide expert support for managing and maintaining a company's IT infrastructure, helping improve operational efficiency and security. Some of the benefits of using managed IT services are:
Managed IT service reduce downtime by monitoring web performance. Common benefits of network management include improved productivity, proactive network monitoring, traffic and bandwidth monitoring, and enhanced security.
The security service includes enhanced data protection, security strategy planning, reduced system downtime, decreased network vulnerability, and more.
Cloud computing scales up the business by lowering security risk, easing the complexity of cloud computing, efficiently utilising resources, and inheriting flexibility and scalability.
A managed IT service provider delivers 24/7 support and promptly addresses minor system changes. One of the major benefits is the early detection of potential threats arising from unauthorised access.
Backups and Disaster recovery
The significant benefit of proactive support is the regular assessment of hardware and software, proactively checking system vulnerabilities, and fixing them before a cyber attack.
Challenges of Managed IT Services
You already know about the benefits of managed IT services. Now, we will discuss the common challenges of managed IT services:
You can share the IT burden with your service providers, but outsourcing to unreliable vendors can lead to dissatisfaction and financial losses. It's advisable to avoid working with vendors who refuse to share system metrics.
Insufficiency Attention to business needs
The duty of managed service providers(MSPs) is associated with the strategic planning, enhancement, and configuration updates in IT operations. Your company may regress for years if they fail to provide these services.
No prior experience or market credibility
Having a good track record in any industry is a hallmark of great credibility. Before outsourcing services, it's essential to verify the past performance of a prospective vendor. If a service provider fails to provide proper evidence of quality, that is a poor investment option.
Cybersecurity involves complex methodologies and needs experienced IT experts, which is why many MSPs do not specialise in cybersecurity. This leaves the businesses susceptible to cyber attacks or cyber criminals.
The main motivation for contracting an MSP is to stabilising and protect IT investments. However, you might discover cost differences compared to your than expectations. MSPs install hardware without prior information to a client. As long as you find this problem, you can terminate the contract.
Matrix Solutions safeguards against the above challenges. We are a trusted and top-notch managed service provider in Australia with better accountability, sufficient market credibility, enhanced cybersecurity, and cost savings.
What's the Difference Between Managed IT Services and Cloud Services?
The significant difference between managed IT services and cloud services is that managed IT services handle tasks such as security operations, encryption, infrastructure development, and other IT functions. They also assist in migrating and maintaining your business on the cloud platform.
Cloud services include the remote maintenance of information and services on their cloud infrastructure. Cloud service providers usually charge based on data usage. Service providers collaborate to synchronise all your software and devices, allowing you to work remotely.
Market Challenges and Opportunities after COVID
The global managed services market is dealing with the aftermath of COVID-19. After COVID, there were some positive and negative changes in the market. In this context, we have listed some of the market challenges and opportunities post-COVID.
Market Challenges After COVID
Imbalance between production and demand
Disruption of supply chains and marketplaces
Financial impact on businesses and markets
Integration with third-party apps
Generating cloud invoices and managing multiple accounts
Market Opportunities After COVID
Adaptation of cloud services
Increased use of AI
Utilisation of Big Data
Growing demand from SMEs for cloud-managed services
Expansion of Anything-as-a-Service(XaaS) technology
How does Matrix Solutions help to improve managed IT services?
Matrix Solutions is one of the entrusted managed services providers that delivers managed cloud services, managed IT services, managed security services, NetDocuments, IT strategy consulting, and virtual CIO. We specialise in serving various industries, including law firms, financial institutions, insurance companies, and professionals.
We know you are delicate with your customers' information. Hence, Matrix Solutions take all the stress off your shoulder by protecting your organisation's critical assets and mitigating cybersecurity risk proactively. Connect with us for a free consultation.
Why choose us:
24/7 support
Optimising operating costs
Exceptional customer service
Robust backup and recovery
Reduced downtime and upscaled network
Smooth collaboration and file sharing
Advanced security services
FAQs on Managed Services in IT Industry